First it was a postponement from May to August 8. Plans were set for First Christian Lansing to host our annual Regional Assembly of the Christian Church (Disciples of Christ) Michigan Region. But the pandemic refused to leave.  

By July most congregations had become familiar with worship via Facebook, Zoom, YouTube and phone. And so it became the new reality facing the Regional Assembly planning committee. A Virtual Regional Assembly alternate plan was underway and came to pass, having 76 paid registrations and with 71 participating from 21 congregations.
There were technical bumps along the way but ultimately, we carried out business, including voting virtually, heard three informative presentations by guest leaders and experienced an engaging closing worship and communion service with the Rev. Carol Devine as our preacher.

And just for good measure, as with all assemblies, a few folks remained long enough afterwards to express heart-felt concerns about the issues facing us as Christian leaders in addressing the racism in our communities and churches.
Video Highlights Available
A Video is available to share with local church leaders of the 2020 Michigan Disciples Regional Assembly held via Zoom on August 8.

Click here to go to video.  It is 1:45 hours but can be watched in segments.

Time markers are included in the description paragraph on YouTube.com, making it easy to go to specific sections of the recording. Each of the speakers and the worship service, are marked.
Business Actions & State of the Region
The 2020 Regional Assembly theme, "All Creation is Sacred," was inspired by the assembly scripture passage from Colossians 1:15-16. The Rev. Arnold Lakes, vice-moderator, called the assembly together with prayer followed by the energetic singing of "This is the Day" by the First Christian Lansing Praise Band.
 
The three-hour virtual Assembly took action on three business items and elected three new Board members. They also received a State of the Region report from Eugene James (@6:14 minutes in video) and written reports from Commissions and Committees.
James, Regional Minister, noted the effective ministry of our congregations and how they have adjusted to online worship even in the midst of the Covid-19 pandemic. Eugene also noted that Crystal is open for short term use this summer, though camps had to be cancelled; and
Beverly Peeler, Office Manager, will be retiring at the end of the year after twenty years of service (@1:01:20 minutes in video). He reported that two long-time congregations of the Region, First Christian Church, Petoskey and First Christian Church, Dowagiac have withdrawn from the Michigan Disciples of Christ for theological reasons.
Treasurer's Report
Sarah Beth Simonds, Treasurer and Finance Commission chair, provided a summary of the Region's finances, showing a 2019 year-end cash balance of $364,880, due primarily from income from sale of Crystal property and special designated funds. Income and expenses from operations of the Regional Office and Crystal Conference Center ended 2019 with a deficit of $-46,133 which was not as severe as expected.
Reports by other Commissions and Committees are available in the Regional Assembly printed docket – click here to download.

Business Actions
Approved suspension of the rules to allow the Assembly business to be conducted virtually
Approved sale for $40,000 of 0.2 acres of hillside south of and adjacent to owners of Lot 80 cottage at Crystal Conference Center (docket page 66)
Approved sale of Battle Creek First Christian Church property that is owned by the Region, for $150,000, to the American Legion Battle Creek Post 257. (docket page 67)
Elected Gwen Pettway Church Growth & Vitality Chairperson; Elected as Members at Large of the Regional Board Douglas Morgan and Neil Topliffe
Three Guest Presentations
Using the theme "All Creation is Sacred," three guests lifted the issues of environment, racism and stewardship of resources.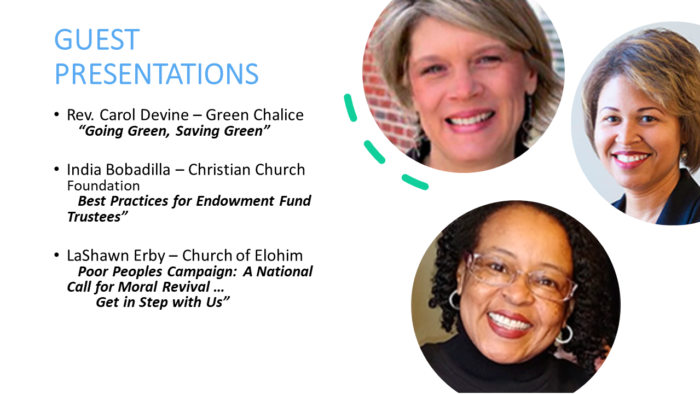 "Going Green, Saving Green" was the focus of the Rev. Carol Devine, minister for Green Chalice, the creation care ministry of the Christian Church (Disciples of Christ), and Communications Director of Lexington Theological Seminary. Listen to her presentation via video (@13:00 minutes).

LaShawn Erby, a Lansing leader of the Michigan Poor People's Campaign and the Church of Elohim, shared the need for all of us to step up and join the moral revival surrounding the issues of racism in our communities. Her theme was "Poor Peoples Campaign: A National Call for Moral Revival … Get in Step with Us." Listen to her presentation via video (@28:20 minutes).         
"Best Practices for Endowment Fund Trustees" was the theme of India Bobadilla, Vice President, Christian Church Foundation, Indianapolis. "An endowment fund is an excellent way to establish a solid financial foundation for the ministries of your church," she shared. Listen to her presentation via video (@38:10 minutes).

Worship Culminates with Communion
Closing Worship (@52:35 minutes on video)
A mass of faces covered the screens of our computers as the highlight of the assembly was taking communion together even though we were spread across the state. "As Disciples of Christ, the Lord's table is so central to who we are," Pastor Eugene James reminded us as we broke bread and drank from the cup.
 
But prior to communion, we were challenged and inspired by the message of the Rev. Carol Devine, minister for Green Chalice, who opened up the significance of our theme, "All Creation is Sacred," and the scripture from Colossians 1:15-16 (@1:11:15 minutes on video).
 
Drawing upon the scripture, Devine outlined the challenges facing us environmentally in today's world. "We have the power of God in us," Devine urged, "not just in ourselves but in our connectedness, in our relationships with others… As followers of Christ we signed up for the hard work. That means we will not experience chaos.
Rev. Carol L. Devine is the minister for Green Chalice, the creation care ministry for the Christian Church (Disciples of Christ) and the CommunicationsDirector for Lexington Theological Seminary. She is a lifelong Kentucky Disciple with a bachelor's degree from Transylvania University, Master of Science from the University of Kentucky and Master of Divinity from Lexington Theological Seminary.

Carol was the pastor of a congregation for 11 years until God called her to make creation care her primary focus. She is the mother of three young adult children.