Jessica Burton, a member of First Christian, Lansing, is the new Michigan Disciples Administrative Assistant, succeeding Beverly Peeler who retired the end of 2020.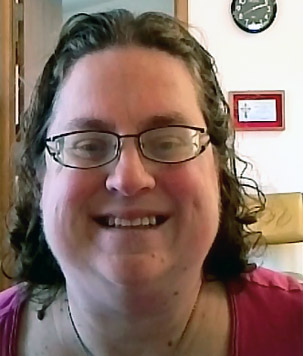 "I was looking for an organization I believed in and the mission of the Michigan Disciples was a very good fit for me and my family," Jessica shared. Her goal is to draw upon electronic experience in other jobs to increase use of technology in streamlining office operations. She already is getting familiar with the church database system and ALEX, the new Disciples online congregational and Yearbook database.
Burton comes with wide experience and also a commitment to the Disciples of Christ, noted Julie Drews, Personnel Commission chair. What the Commission liked about Jessica was "her open personality, with a freshness and caring attitude, able to keep confidences, and also pray with people," Drews added.
Jessica is the mother of four children, two foster, ages 5 to 12 years. Her husband, Elijah, is employed at an Episcopal Church and is beginning online classes at the Disciples Phillips Seminary. Both have been active at First Christian, serving in several program responsibilities.
She is a graduate of MSU with a degree in Parks and Recreation and was on program staff at two camps for eight years in the Jackson area. She is a local Girl Scouts leader.
She and two children attended Crystal Family of God Camp and returned last summer with family for a long weekend. "Crystal holds a big part of my heart," Burton noted.
Eugene James, Regional Minister, observed, "To say that I miss Beverly would be an understatement, but when we interviewed Jessica, I felt she would be able to take on the responsibilities of the job. As I expected, she is doing just that. The time she spent working with Beverly has paid off and the transition has been seamless."